Welcome To The Blue Horizon
A Locally Owned and Operated Independent Hotel in Vancouver, BC
The Blue Horizon is a boutique-style hotel located in the heart of Robson Street, the hub of shopping and dining. Live like a local and experience the culture and the friendly community of the West End neighbourhood. Enjoy the close proximity to Stanley Park, English Bay, Davie Village, BC Place, Rogers Arena, the Convention Centre and Canada Place Cruise Terminal.
The Blue Horizon has been awarded a 4-Green Key Eco-Rating by the Hotel Association of Canada, and Certificate of Excellence by Trip Advisor.
SafeTravels Stamp
4 Green Key Rating
Certificate of Excellence

Amenities
Free Wifi
Nespresso Coffee Machine
Bathrobes
In-room Safe
Kettle
Mini-Fridge
Air Conditioning
Charging Station
Flat-Screen TV
Work Desk with Task Lighting
Complimentary UmbraCity Umbrella Rental
Guest Rooms
Spacious and Bright Corner Rooms all with Private Balconies
All our guest rooms are corner rooms with private step out balconies, many with million-dollar views of English Bay, the North Shore mountains and the city of Vancouver. Amenities include free Wi-Fi, Nespresso coffee maker, kettle, cozy bath robes, in-room safe, wireless streaming via Staycast powered by Google Chromecast and much more.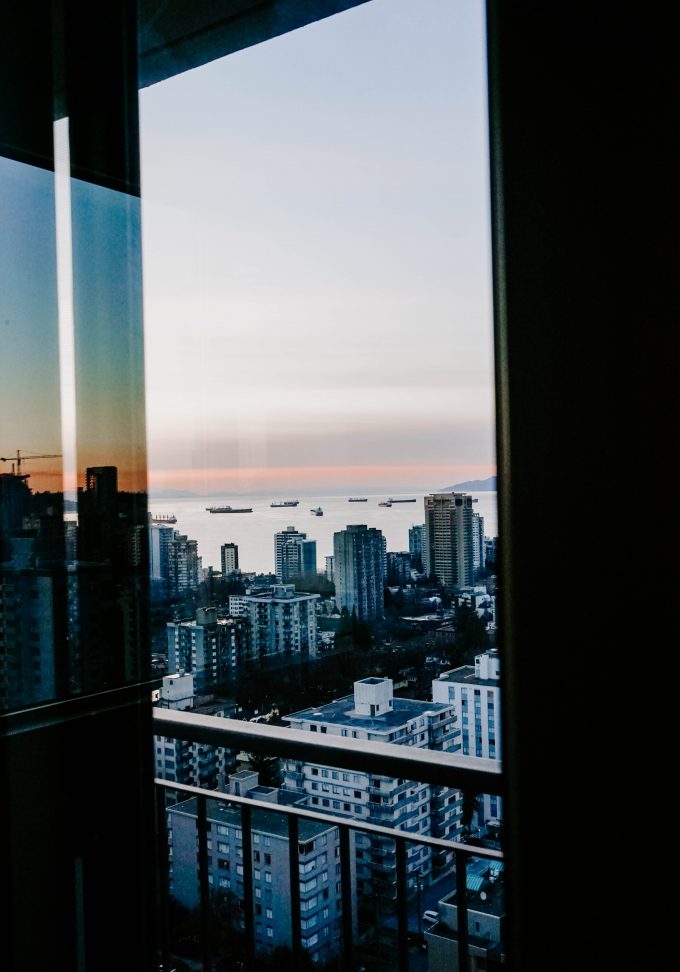 Level 31 – Summit Event Space
Elevate your Event
Located in the heart of downtown Vancouver, the rooms offer breathtaking, panoramic Ocean, City and Mountain Views.
Take your meeting to the next level and enjoy Vancouver's natural beauty and keep your guests energized throughout the day with our wall-to-wall windows and natural lighting.
The Blue Horizon's unique meeting space is the perfect location for you next event.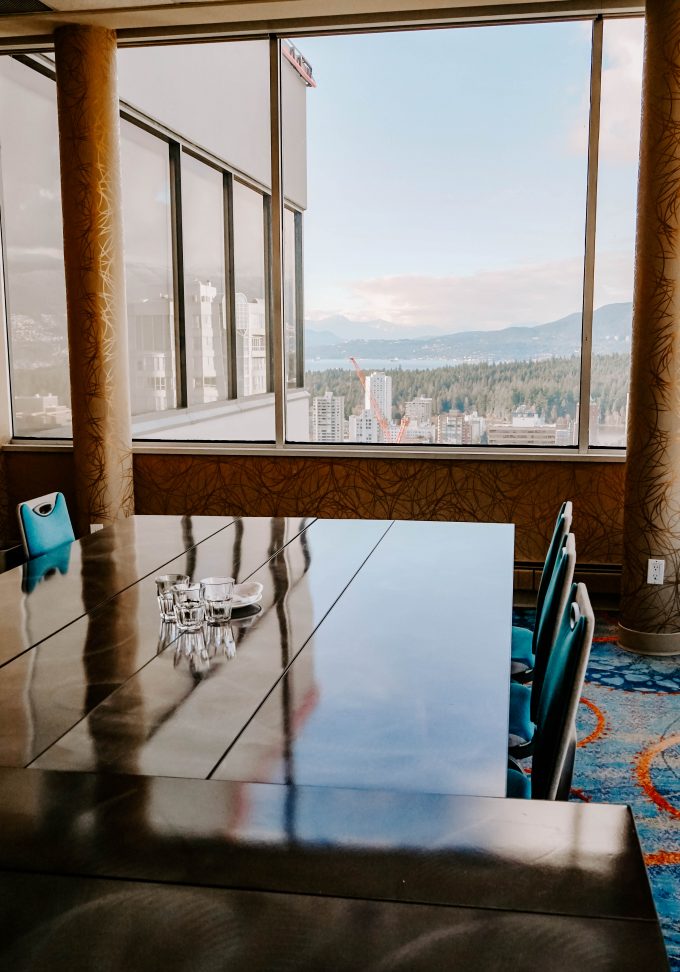 On-site Facilities
Pool + Fitness Area
The space has two separate fitness areas – one to workout with fitness equipment and free weights, and a second quieter area with more focus on stretching, both looking out at a landscaped garden. We have a small indoor swimming pool, whirlpool and steam room for relaxing.
The Pool + Fitness Area is open from 6am-10pm and closed daily from 2pm-3pm.
January 7-25, 2024 our Fitness area will remain open while the Pool Area will be closed for maintenance work.
ABODE Restaurant
Seasonal + Fresh
A patio that is perfect for people watching on the sunny side of Robson Street.
ABODE is open for brunch – check out aboderestaurant.ca for details on hours.
Frequently Asked Questions
We're happy to answer your inquiries.
What is check-in time?
Check-in time begins at 3:00pm. If your room is not ready, the hotel is able to store your luggage. Early check-in requests cannot be guaranteed.
What is check-out time?
Check-out time is 11:00am. The hotel is able to store your luggage. Late check-out requests cannot be guaranteed. Fees may apply.
Are guest rooms non smoking?
The hotel is 100% non-smoking including the guest room balconies.
Do we have a Pool + Fitness area?
The fitness area is on the 2nd floor. We also have an indoor lap pool, whirlpool, steam room, exercise areas with cardio machines, free weights and quiet stretching areas.
Do we allow pet dogs?
We now have dog friendly floors – please reach out to us by calling 604-688-1411 or emailing us at info@bluehorizonhotel.com.
Do we have Accessible Guest Rooms?
Yes, we have Accessible Guest Rooms. Please contact the hotel directly to find out more information and for availability.
Do we have playpens or cribs?
We have playpens and cribs available upon request and are not guaranteed. We do not have rollaways or cots.
What is the Green Key program?
The Green Key Eco-Rating Program is a rating system designed to recognize hotels that are committed to improving the environment and sustainable practices.
The Green Key program evaluates the hotel on five main operational areas: Corporate Environment Management; Housekeeping; Food & Beverage Operations; Conference and Meeting Facilities and Engineering.
It covers Energy conservation; Water conservation; Solid waste management; Hazardous waste management; Indoor air quality; Community outreach; Building infrastructure; Land use and Environmental management.
The hotel has a 4 Green Key Rating, which means the hotel has taken significant steps to protect the environment. Strong environmental programs, best management practices, training programs, and engineering solutions have been implemented which have benefited the environment and the local community.
What is the TripAdvisor Green Leaders Program?
The Green Leaders Programme recognizes hotels that engage in environmentally friendly practices, making it easier for travellers to find and book a greener stay. Qualifying properties are marked with a badge on their TripAdvisor page. The Blue Horizon is proud to be a Silver Level Hotel.
Parking + Transit
Here are the most convenient parking and transit options for our guests.
Is there parking available?
Parking is available at the hotel at $21.95 CAD per day plus taxes. The parking height is 6 feet 2 inches. The entrance is right off Robson beside the hotel. Please stop beside the side entrance before parking and register your vehicle with the Front Desk. Your license plate number will be required, please have it available when checking in. Parking rates are subject to change.
Do we have a shuttle to and from the airport?
We do not have a shuttle service. A taxi from the airport costs approximately $34.00 CAD one way. A taxi stand is right in front of the hotel.
Skytrain (Public Train): The Skytrain departs from the airport every 5 minutes and takes about 30 minutes to reach City Centre. Exit the train at City Centre Station. The hotel is approximately 4 city blocks (12 minutes walking) away.
Local Transit?
While visiting the Blue Horizon, explore the city's sustainable transportation options including:
Local Transit: transit stop is in front of the hotel. Please ask the Front Desk for local transit information including skytrain and bus schedules.
Bike Rentals: Discounts on bike rentals are available at SPOKES for our hotel guests. Vancouver Bike Share is an ideal way to get around for shorter trips. www.mobibikes.ca (located just around the corner from the hotel). Contact the desk for more information.
Do we have a shuttle to the Cruise terminal?
A taxi to Canada Place (cruise terminal) is approximately $10.00 CAD one way.
How close is Canada Place (cruise terminal)?
Canada Place (cruise terminal) is approximately 10 blocks away from the hotel.
How close is the train/bus terminal from the Hotel?
The Via Rail station and Bus terminal are approximately 3 km from the Hotel. Taxi is approximately $12.00 CAD one way.
Location
The Blue Horizon Hotel is located on Robson Street, Vancouver's eating, shopping and entertainment hub. Nestled between downtown and the West End, enjoy some of Vancouver's finest views in most of the Hotel's 31 stories.
1225 Robson Street
Vancouver BC V6E 1C3
100 out of 100 Walking Score
Contact Us